Ruger Radial Ported 35 Caliber Muzzle Brake – 1/2×28
Orders will Ship within 1 Business Day
Experience Enhanced Recoil Control with Ruger's Radial-Ported Muzzle Brake
Specifically designed for the 350 Legend and 9mm, Ruger's radial-ported muzzle brake significantly reduces felt recoil and muzzle rise for fast follow-up shots. The radial porting efficiently redirects escaping gases sideways and forward to counteract recoil forces. Constructed from durable 4140 chrome moly steel with a sleek black oxide finish.
Installs easily on any 1/2×28 threaded barrel using a standard 3⁄4 inch wrench – no crush washer needed. At just 1.75 inches long and 2 ounces, it adds highly effective recoil reduction without weight or length. Give your 350 Legend or 9mm PCC a custom upgrade by adding this purpose-built Ruger muzzle brake. Experience reduced fatigue and increased shot-to-shot speed and control.
With Ruger's commitment to quality and innovation, this muzzle brake is a must-have for serious shooters looking to decrease felt recoil and increase performance on the range or in the field.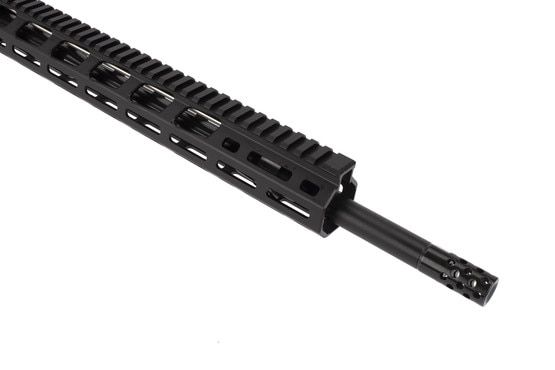 Specifications
Brand: Ruger Firearms
Model: Radial Ported Muzzle Brake
MPN: 90699
Caliber: 350 Legend, 9mm
Thread Pitch: 1/2×28
Material: 4140 Chrome Molly Steel
Finish: Black Oxide
Torque Spec: 15-20 ft-lbs
No crush washers are required
Made in the USA
Have Questions About this Product?
The AT3 Tactical store has a 90 day no-hassle return policy for products in good condition. You can view the full details of our return policy here.
If you encounter an issue or defect with a product after 90 days of your purchase, you can refer to the manufacturer for a warranty claim. Their policies are below.
Ruger Warranty
Choose what works best for you. Contact us by phone, mail, or submit your question via our online web form. For repairs, please contact us to receive RMA information prior to shipping your firearm.
Contact Details:
Telephone: 336-949-5200
Fax: 336-949-5300
Disclaimer: Manufacturer's warranty is subject to change without prior notice.