Glock OEM Front Sight Tool
Orders will Ship within 1 Business Day
In-Stock and Ready to Ship
Glock OEM Front Sight Tool
The Glock OEM Front Sight Tool is an essential accessory designed specifically for adjusting or replacing front sights on Glock pistols. Glock, a renowned Austrian firearms manufacturer, produces these tools to ensure that Glock owners can easily and safely make adjustments to their firearm sights without the need for professional gunsmithing.
The tool is made from durable materials to withstand the forces applied during sight adjustments. This ensures longevity and reliability, even with regular use. The design takes into consideration the unique features of Glock front sights, providing a secure and precise fit during adjustments.
Glock produces a variety of pistols, and the OEM Front Sight Tool is designed to be compatible with all Glock models. This ensures that Glock owners can use the tool no matter what Glock they own. As an OEM (Original Equipment Manufacturer) product, the Glock Front Sight Tool is produced by Glock itself. This ensures that users are getting a tool designed to meet the company's quality standards and specifications.
The compact size of the tool makes it easy to carry in a range bag or pocket. This portability ensures that Glock owners can make necessary sight adjustments on the go, whether at the shooting range or in the field.
Using the Glock OEM Front Sight Tool is a straightforward process. The tool is inserted into the front sight to make windage adjustments, and some models may also include features for elevation adjustments. This allows Glock owners to maintain their firearms and customize their sights to suit individual preferences or shooting conditions.
In conclusion, the Glock OEM Front Sight Tool is a specialized accessory designed to facilitate the precise adjustment and installation of front sights on Glock pistols. Its user-friendly design, compatibility with various Glock models, and durable construction make it an essential tool for Glock owners who want to maintain and customize their firearms.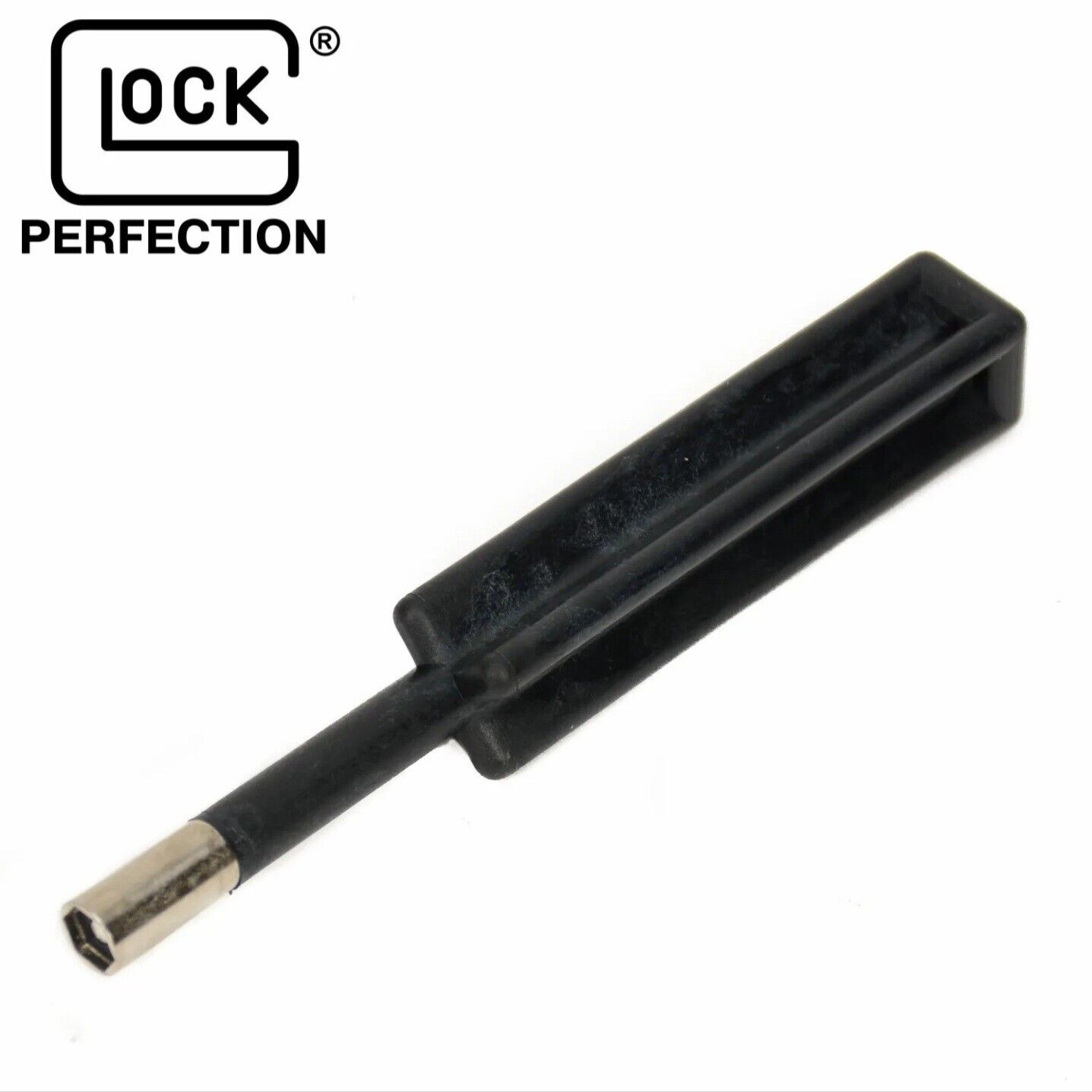 Specifications
Brand: OEM Front Sight Tool
Model: Glock
MPN/SKU: SP05686
Fit: G17, G19, G20, G21, G22, G23, G24, G26, G27, G29, G30, G31, G32, G33, G34, G35, G36, G37, G38, G39, G30, G41, G42, and G43
Use: Installing sights onto Glock Slides
Material: Steel and Polymer
Weight: 0.25 OZ
Color: Gray and Black
Made in USA
Have Questions About this Product?
The AT3 Tactical store has a 90 day no-hassle return policy for products in good condition. You can view the full details of our return policy here.
If you encounter an issue or defect with a product after 90 days of your purchase, you can refer to the manufacturer for a warranty claim. Their policies are below.
GLOCK Warranty
Your new GLOCK is designed to provide you with that same reliable performance every time you use it; even in the face of the harshest conditions on the planet. 
Subject to terms, conditions, and limitations outlined below, GLOCK, Inc. guarantees its pistols against defects in materials and workmanship that adversely affect their operation for a period of one (1) year from the date of their original purchase by the initial consumer.
This warranty is valid only for pistols purchased and used in the United States of America, its territories and possessions, Puerto Rico, and Canada.
This warranty only becomes effective if activated by the original consumer purchaser within 30 days of the purchase date, by completing and returning the warranty card included with your GLOCK pistol.
GLOCK, Inc. reserves the right, at its sole discretion, to accept proof of purchase in lieu of a completed warranty card.
To make a claim under this warranty, contact GLOCK, Inc. at 6000 Highlands Parkway, Smyrna, GA 30082, or call (770) 432-1202 for instructions on how to return your pistol.
Do not return your GLOCK pistol for service without prior authorization.
Limitations of Warranty
The warranty will be void if any of the following occur:
The instructions in the Instructions for Use manual are not followed
Your GLOCK pistol or any of its parts are altered or modified from their original state
Damage is caused by misuse, abuse or improper maintenance
Your pistol is disassembled beyond the instruction in Chapter 9 of the Instructions for Use manual
Reloaded, remanufactured, or hand-loaded ammunition, or ammunition of a different caliber than your GLOCK pistol is used.
There are no warranties which extend beyond the description on the face hereof.
The sole and exclusive remedy pursuant to this warranty is the repair or replacement of your GLOCK pistol, at the sole discretion of GLOCK, Inc.
The implied warranties of merchantability and fitness for a particular purpose are expressly disclaimed.
All disclaimers and limitations of liability shall still apply even if the limited remedy of repair and replacement fails of its essential purpose.
In states where permitted, GLOCK, Inc. assumes no liability for incidental or consequential damage or for incidental expenses.
Any action against GLOCK, Inc. based on an alleged breach of this warranty must be brought within one (1) year of the claimed breach.
GLOCK, Inc.'s liability for breach of warranty shall be limited to repair or replacement of your GLOCK pistol, at the sole discretion of GLOCK, Inc.
Disclaimer: Manufacturer's warranty is subject to change without prior notice.