Smith & Wesson Shield Plus Optics Ready 9MM Pistol with 13 and 10 Round Magazines
This item is regulated, therefore your entire order will be shipped to an FFL dealer of your choosing. After you place your order, we will contact you to finalize these details.
We'll special order for you! Allow 3-5 days to Ship
In-Stock and Ready to Ship
Optics Ready Smith and Wesson Shield Plus 9MM
The 9mm Smith & Wesson Shield Plus includes two magazines, night sights, plus an RMSc optics cut for a complete EDC package. This handgun features an ultra-compact 3.1 inch barrel and 10 round and 13 round magazines to suit your needs for concealment and grip length. The trigger is also improved, with a tactile and audible reset.
The Optics Ready Smith and Wesson Shield Plus 9MM is also designed to accommodate a red dot optics system. This slide cut feature allows you to easily attach a red dot sight, enhancing your accuracy and speed when acquiring targets. The combination of the red dot optics system and the handgun's 3.1-inch barrel ensures improved target acquisition and precision, even in low-light conditions.
For added control and comfort, the Shield Plus 9MM features a much more textured grip in comparison to the first-generation shield. This textured surface provides a secure hold, even when your hands are sweaty or wet. It allows for a firm grip, minimizing the chances of the firearm slipping during use. Additionally, the handgun incorporates a white dot front sight, enhancing visibility and making it easier to align your target.
For a fully modern concealed carry setup, equip the Shield Plus with a Streamlight TLR-6 weapon light, and a compact Holosun 507K red dot sight! These tools are essential for ensuring you can identify and verify your target, and line up consistent, accurate shots under pressure.
Its slim profile, striker-fired action, manual thumb safety, and compatibility with red dot optics make it an excellent option for concealed carry, self-defense, and target shooting. Whether you're looking for a dependable everyday carry firearm or a reliable backup weapon, the Shield Plus 9MM delivers on all fronts.
Features
RMSc slide cut for optics
Flat face trigger for consistent trigger finger placement that allows for more accurate and repeatable shooting
Enhanced grip texture allows the user to manage recoil, keep a firm grip and delivers comfort when concealing
Extended magazine offers 13+1 round capacity
For more concealable option, we offer a flush-fit 10 round magazine
13 round and 10 round magazines included
Tactile and audible trigger reset
Extremely thin and lightweight – can be comfortably carried all day
M&P's patented take-down lever and sear deactivation systems allow for disassembly without pulling the trigger
Optimal 18-degree grip angle for natural point of aim
Armornite® durable corrosion resistant finish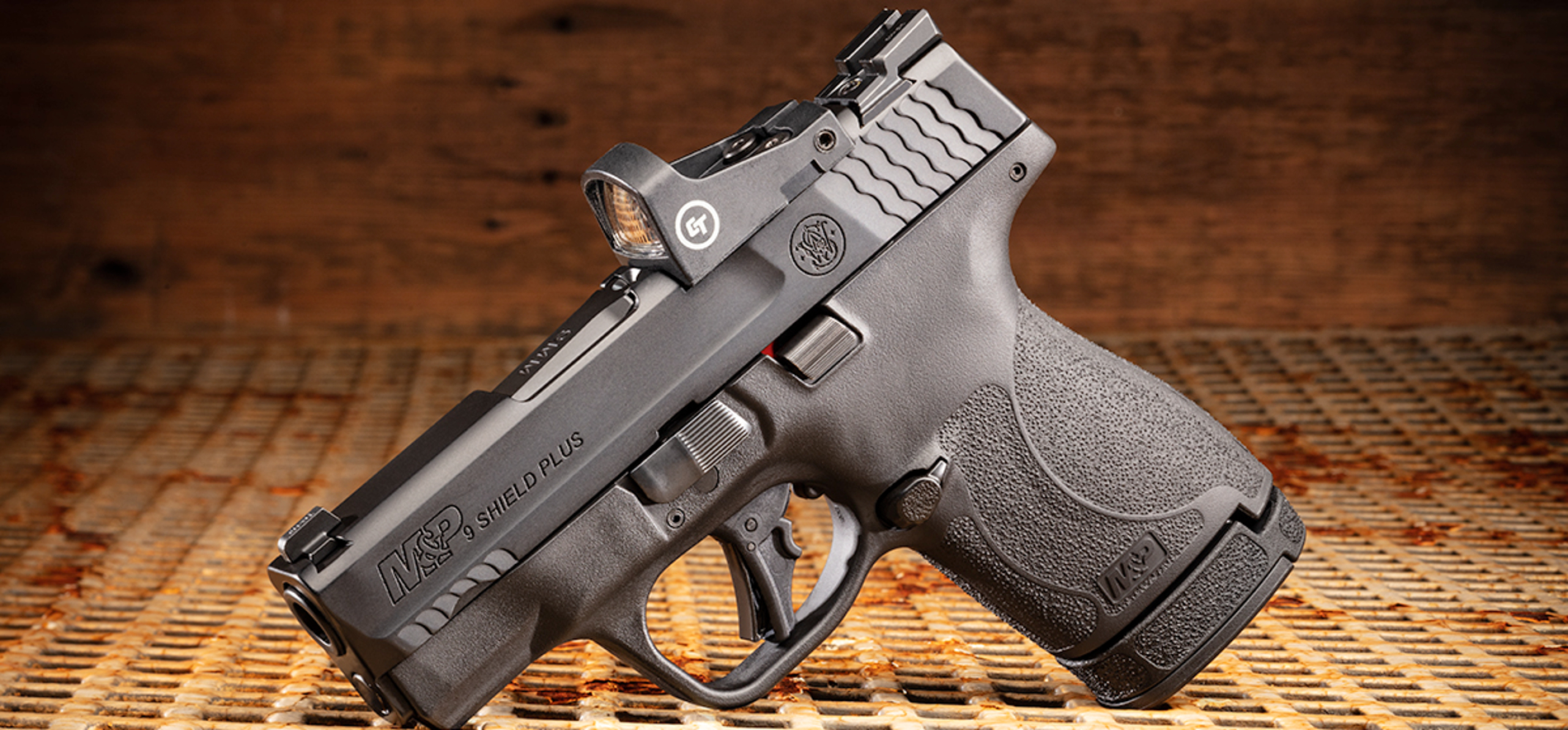 Specifications
Caliber: 9mm
Class: Subcompact
Capacity: 13+1, 10+1
Barrel Length: 3.1″
Length: 6.1″
Weight: 19.3 oz
Sights: Fixed Night Sights
Grip: Standard
Trigger: Standard
Safety: No Manual Safety
Finish: Armornite
Have Questions About this Product?
The AT3 Tactical store has a 90 day no-hassle return policy for products in good condition. You can view the full details of our return policy here.
If you encounter an issue or defect with a product after 90 days of your purchase, you can refer to the manufacturer for a warranty claim. Their policies are below.
Smith & Wesson Limited Warranty
For Owners Within The United States
This warranty is granted by Smith & Wesson Inc. This warranty is effective from the date of purchase and applies to the original owner of any firearm. With respect to such firearms, this warranty supersedes any and all other warranties.
Smith & Wesson firearms are warranted to be free from defects in material and workmanship. Any such defects of which Smith & Wesson receives written notice within one year from the date of purchase by the original owner will be remedied by Smith & Wesson without charge within a reasonable time after such notification and delivery of the firearm as provided below.
In the event of an emergency (repairs needed by law enforcement, an upcoming match or hunting trip), call 1-800-331-0852, ext. 4125 and ask for 911 Priority Repair Service. This allows you to speak with a Smith & Wesson representative. Immediately upon receipt, your firearm will be assigned to a gunsmith. After the work is completed, we will return your Smith & Wesson firearm via overnight delivery.
Smith & Wesson will not be responsible for:
Defects or malfunctions resulting from careless handling, unauthorized adjustments or modifications made or attempted by anyone other than a qualified gunsmith following Smith & Wesson authorized procedures or failure to follow the disassembly instructions in the Smith & Wesson manual.
Use of defective or improper ammunition, corrosion, neglect, abuse, ordinary wear, and tear, or unreasonable use.
Criminal misuse, negligence, or use under the influence of drugs or alcohol.
Disclaimer: Manufacturer's warranty is subject to change without prior notice.