True Precision Fluted Match Barrel for Glock 17 Gen 1-4
Click Here for Price
$189.99
Orders will Ship within 1 Business Day
In-Stock and Ready to Ship
True Precision Fluted Match Barrel for Glock 17
True Precision Fluted Match Barrels are known for their exceptional accuracy, reliability, coating, and aesthetic appeal. This Fluted Match Barrel for Glock 17 is no exception to that.  One of the standout features of this barrel is its fluted design. The fluting not only adds a unique aesthetic touch but also helps to reduce weight without compromising strength. This can contribute to improved handling and faster target acquisition.
What sets this barrel apart is its exceptional craftsmanship. It's 100% designed and manufactured in the USA, utilizing USA-sourced certified 416R stainless steel. This ensures durability and reliability, making it a top choice for firearm enthusiasts.
The 9mm 1/10RH twist rifling further enhances the barrel's performance, promoting better bullet stabilization and accuracy even with its short length. Additionally, the special 11-degree competition style target crown adds a stylish touch to the non-threaded versions.
When it comes to safety, this barrel has you covered. It features a fully supported SAAMI spec chamber, ensuring proper cartridge support and reliable extraction. The improved overall fit from OEM, including added chamfers and improved radius cuts, provides a better-than-OEM barrel experience.
To suit your personal preferences, True Precision offers assorted specialty coatings and finishes for you to choose from. Whether you prefer a classic look or something more unique, you can customize your Glock 17 barrel to your liking.
True Precision, Inc. takes pride in its commitment to quality and American craftsmanship. Located just outside Atlanta, Georgia, they strive to provide high-quality, US-made parts and components for firearms. Every True Precision barrel, slide, and part is engineered, machined, and made from the ground up in the USA, in partnership with only American companies.
ResThe True Precision Fluted Match Barrel for Glock 17 comes with a lifetime performance warranty for function. This guarantees that your investment is protected and that you can rely on the barrel's performance for years to come.
Experience improved accuracy, reliability, and personal defense capabilities like never before. Upgrade your Glock 17 with the True Precision Fluted Match Barrel and feel the difference today.
Features
Easy to install drop-in design
Works with Gen 1-4 Glock pistols (Not Gen 5)
Barrel length is 4.49″ overall.
Advanced proprietary broach cut design specifically engineered for increased accuracy potential.
Broach cut 6 groove rifling allows for all ammo types to be used safely, including cast lead.
100% Designed and manufactured in the USA with USA sourced certified 416R stainless steel.
9mm 1/10RH twist rifling.
Special 11 degree competition style target crown for non-threaded versions or 1/2×28 threads with included thread protector on threaded versions.
Threaded versions include Viton high heat integral O-ring lock thread protector.
Fully supported SAAMI spec chamber.
Improved overall fit from OEM with added chamfers, improved radius cuts, and other additions for a better than OEM barrel.
Assorted specialty coatings and finishes to choose from.
For Gen 1-4 Pistols.
Lifetime performance warranty for function.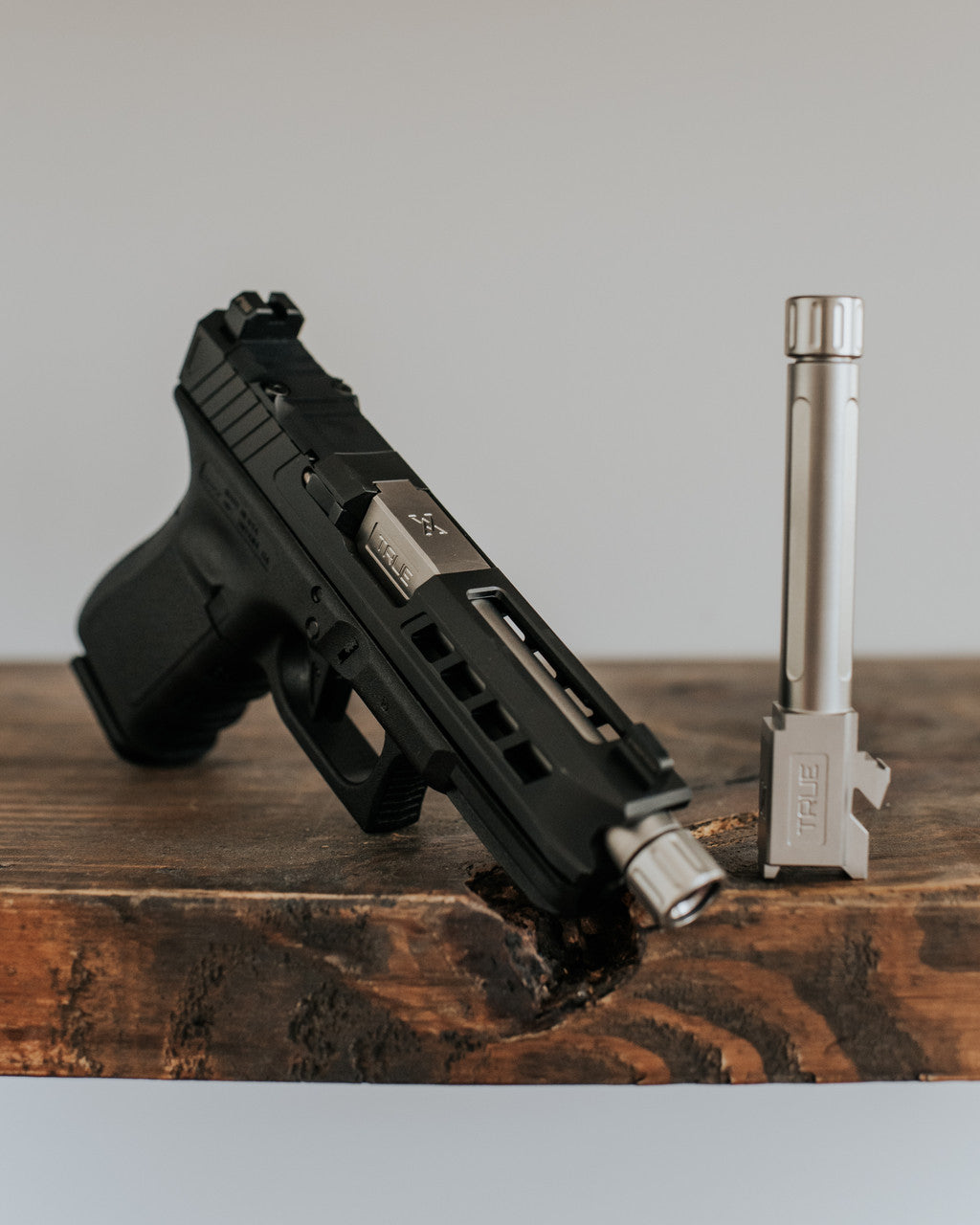 Specifications
Brand: True Precision
Model: Fluted Match Barrel
Fit: Glock 17 Gen 1-4
Caliber: 9MM
MPN: TRUTP-G17B-XBC, TRUTP-G17B-XBL, TRUTP-G17B-XS, TRUTP-G17B-XG, and TRUTP-G17B-XC
Twist: 1:10
Material: 416R stainless steel
Finish: Nitride, Titanium Nitride, Diamond Like Carbon, and Stainless
Have Questions About this Product?
The AT3 Tactical store has a 90 day no-hassle return policy for products in good condition. You can view the full details of our return policy here.
If you encounter an issue or defect with a product after 90 days of your purchase, you can refer to the manufacturer for a warranty claim. Their policies are below.
True Precision offers a limited lifetime warranty on all parts. The warranty covers the operation and function of the part itself and protects it from any operational defects or failure of operation. Altering or modifying a True Precision part will void the warranty. True Precision parts are manufactured to perform with original "OEM" parts. Using reloaded ammunition will void the warranty. We do not warranty True Precision parts that are damaged or become inoperable due to intentional abuse or improper modification of the part. True Precision does not warranty against normal wear or accident damage. If a warranty claim is approved, a credit for the total replacement cost of the True Precision product will be issued to the customer's user account.
Coatings – True Precision warranties against defects of the coatings/finish of the part prior to installation. Once a part is installed, we cannot/will not warranty any coating, finish, or cosmetic attribute. Please inspect and bring to our attention any cosmetic defect before installation and within 30 days of the date of delivery so that the product can be returned or replaced at no charge. We cannot guarantee any amount of wear protection as we cannot control conditions of item use. Any issue regarding finishes or coatings is reviewed on a case-by-case basis and is not covered under the warranty and returns policy after installation or use.
Installation and Break-In – True Precision parts and components should only be installed by a certified gunsmith and should only be installed into firearms that are in good working order. The misuse or improper installation of True Precision parts may result in damage to the firearm or injury. For optimal performance, a standard break-in period is suggested for all parts. We recommend a 100-round break-in period for all parts using ball ammunition. Coated barrels may require an initial light polishing of the feed ramp due to possible buildup of coating; this can be accomplished by hand polishing the ramp or a break-in period firing ball ammunition.
Initiating a Warranty Replacement- Please review the above information before initiating a warranty replacement claim. To begin the claim process, please fill out and submit a warranty claim form here.