Springfield Armory Hellcat OSP Pistol with Gear Up Package with 5 Magazines
Click Here for Price
$633.00
This item is regulated, therefore your entire order will be shipped to an FFL dealer of your choosing. After you place your order, we will contact you to finalize these details.
We'll special order for you! Allow 3-5 days to Ship
In-Stock and Ready to Ship
TOP ADD-ON'S
Streamlight TLR-7 Sub - 500 Lumen Ultra-Compact Weapon Light for Springfield Hellcat
Springfield Armory Hellcat OSP Pistol with Gear Up Package with 5 Magazines
The Springfield Armory Hellcat OSP Pistol is an incredible compact concealed carry solution that blends exceptional performance, high magazine capacity, and comes with tons of extra accessories in the Gear Up Package to make you ready for the range and carry. The Springfield Armory Hellcat OSP is a marvel of engineering, offering a micro-compact form factor and shootability that's perfect for concealed carry.
Weighing in at just 18.3 ounces and with a 3-inch barrel, it's easy to carry comfortably all day. Whether you're wearing it inside the waistband this pistol is designed to be virtually invisible, ensuring you stay protected without drawing unnecessary attention.
This OSP variant of the Hellcat comes equipped with a milled slide, allowing you to attach a micro red dot sight such as the Sig Romeo Zero, ShieldRMS, and more red dots for quick target acquisition. This feature enhances your accuracy and speed in critical situations, giving you the edge in a self-defense scenario.
One of the most important features of the Hellcat is its extended magazine capacity. The Gear Up Package includes five magazines, one of which holds 11 rounds and four that hold 13 rounds. With this firepower at your disposal, you can trust that you won't run out of ammunition when it matters most.
Safety is paramount with the Hellcat OSP. It features a reversible magazine release, a loaded chamber indicator, and a patented Adaptive Grip Texture that ensures a secure hold under any conditions. You can trust that your Springfield firearm will perform reliably and safely.
This package is perfect for those looking to get the most out of their Hellcat. It includes not only the pistol but also five magazines, a hard case, a soft case, a holster, and a Maglula Uplula loader, making it a great value and a comprehensive solution for your concealed carry needs.
In summary, the Springfield Armory Hellcat OSP Pistol with Gear Up Package and 5 Magazines is the ultimate choice for those seeking a compact and feature-packed concealed carry firearm. With its OSP slide cut, extended magazine capacity, and comprehensive package, it provides you with all the tools you need to confidently protect yourself and your loved ones. Don't compromise when it comes to personal safety. Choose the Hellcat OSP and be prepared for any situation that comes your way.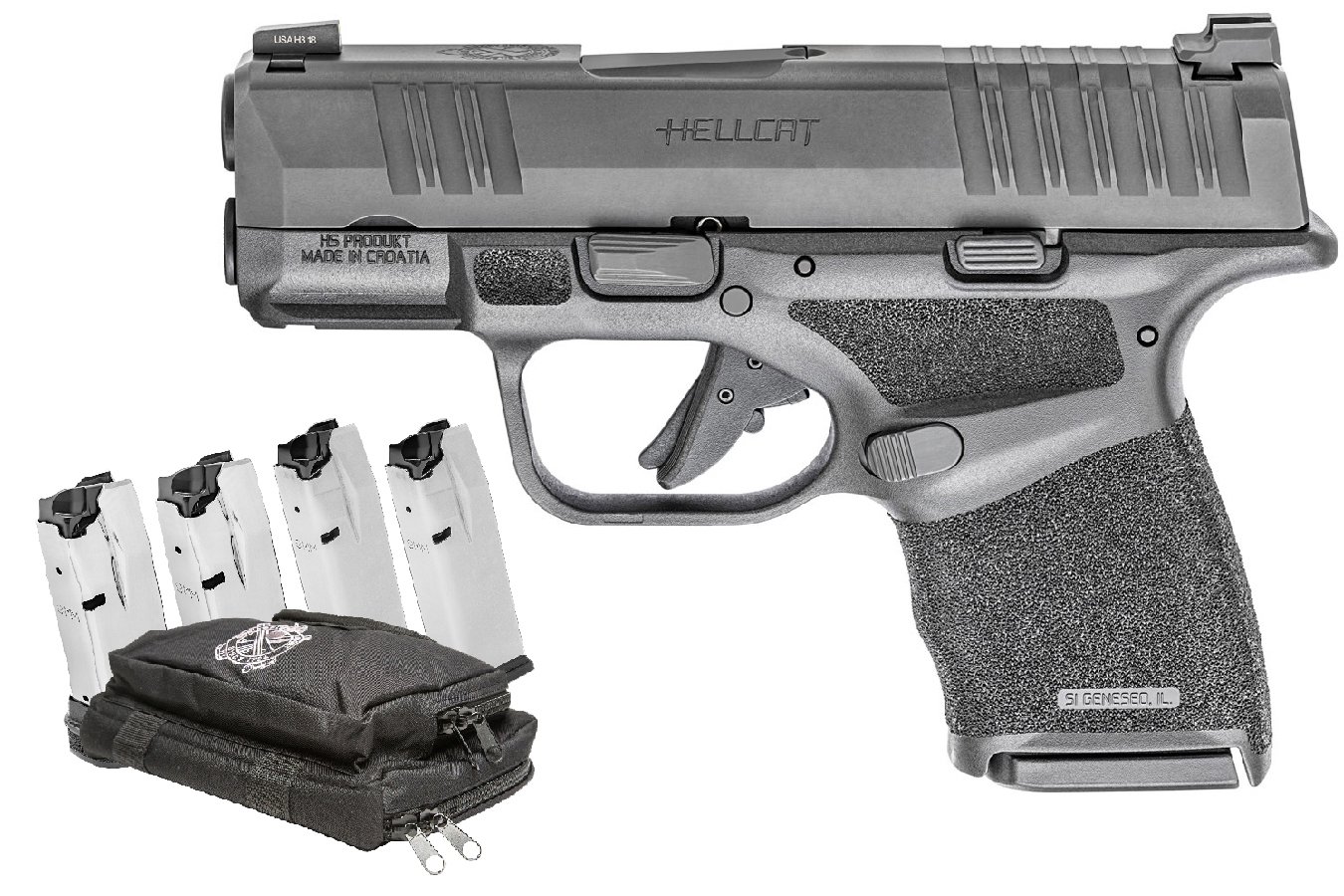 Features
RMSc Optic Footprint

Compatible with Trijicon RMRcc, Sig Sauer Romeo Zero, and More

Durable Melonite Finish on Barrel and Slide
U-Dot Night Sights – Tritium front with curved rear sight
Flat Face Trigger for consistent takeup and break
Adaptive Grip Texture grips
Includes five magazines, a hard case, a soft case, a holster, and a Maglula Uplula loader
Specifications
Caliber: 9MM
Class: Compact
Capacity: 13+1, 11+1
Barrel Length: 3″
Barrel Twist Rate: 1:10
Length: 6″
Height: 4″ w/ Flush Mag, 4.5″ w/ Extended Mag
Weight: 17.9 oz w/ Flush Mag, 18.3 oz w/ Extended Mag
Sights: Tritium U-Dot Sight
Grip: Black Polymer
Trigger: Flat Face
Safety: No Manual Safety
Slide Finish: Melonite
Country of Origin: Croatia
Have Questions About this Product?
The AT3 Tactical store has a 90 day no-hassle return policy for products in good condition. You can view the full details of our return policy here.
If you encounter an issue or defect with a product after 90 days of your purchase, you can refer to the manufacturer for a warranty claim. Their policies are below.
Springfield Armory Limited Warranty
This Limited Warranty is issued by Springfield, Inc., d/b/a Springfield Armory, an Illinois corporation ("Springfield" or "we" or "us" or "our") to "You" the original retail purchaser (also "YOUR") of a Springfield product (the "Product"). This Limited Warranty gives You specific legal rights, and You may also have other rights which vary from state to state.
Who and what is covered by this warranty?
Springfield, Inc. warrants to You, the original retail purchaser of the Product, that the Product. Your purchase will be free of defects in workmanship or material, subject to the terms of this
document.
How long will this warranty last?
This Limited Warranty will last and be in effect during in which YOU, the original retail purchaser owns the Product.
What is not covered by this Limited Warranty?
This Limited Warranty does not cover any damage or condition determined by Springfield to be caused by:
unauthorized repairs, disassembly, adjustments, or modifications
carelessness, negligence, misuse, or unsafe handling
normal wear and tear
failure to properly or reasonably store, use, or maintain the product
hand-loaded, reloaded, remanufactured, or defective ammunition
What do you have to do for warranty service?
You must take 3 steps to get warranty service.
Notify us by phone, email, fax, or mail
If You discover a defect in material or workmanship, You must notify us by telephone, email, fax, or mail at one of the Warranty Service Contact Points. (See below)
Write a brief description of the defect
Please write down a brief description of the defect and how YOU experienced or discovered the defect.
Follow the return instructions you receive from Springfield
Once we receive Your notification for warranty notice at one of our Warranty Service Contact Points, we will provide You with a shipping coupon (so that we can pay for the shipping) and instructions on how to return Your Product for service. You must follow the shipping instructions once You receive them.
Contact Details:
Telephone: 800-680-6866
Email: warranty@springfieldwarranty.com
Disclaimer: Manufacturer's warranty is subject to change without prior notice.