Surefire Warden Blast Regulator for Suppressor Mount Muzzle Devices
Orders will Ship within 1 Business Day
In-Stock and Ready to Ship
Surefire Warden Fast-Attach Blast Regulator
Perfect for recoil mitigation and sound diffusing, the Surefire Warden quickly attaches to Surefire muzzle devices. Directing the blast and concussion down range aids in not making dust clouds and makes an AR15 and AR10 feel less loud and concussive to the shooter and anyone to the sides of the shooter.
The Warden is not an NFA item and can bought as easily as any other unregulated item. This version attaches to Surefire muzzle devices using the SOCOM Fast-Attach system, the same used with their suppressors.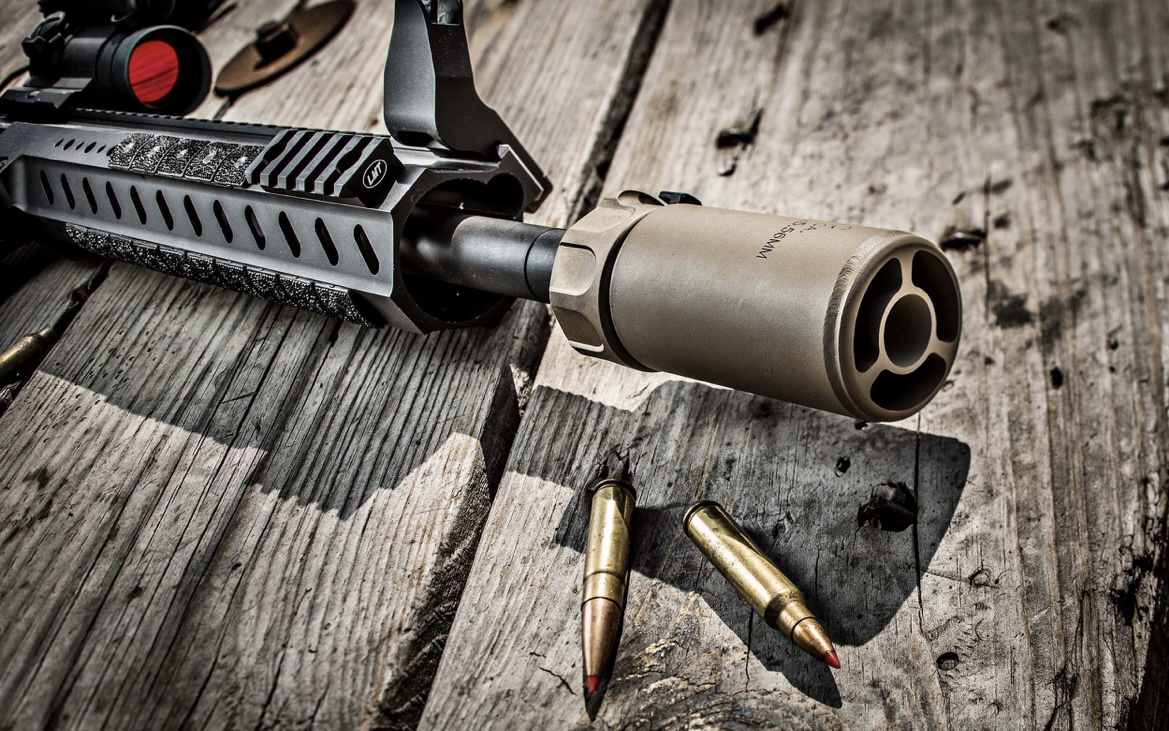 Compatible with calibers up to .30 CAL such as .308 and 7.62×39, the Warden helps make shooting more comfortable for the shooter and others nearby.  Made fully out of stainless steel and coated with a ceramic Cerakote™ finish. Weighing only 7.8 OZ, being easily added and removed, and providing the benefits it does, the Surefire Warden is ready to take on any task in any state.
Features
Directs concussion and muzzle blast forward
Fast, easy mounting to any SureFire SOCOM Fast-Attach adapter
Rugged stainless steel body built to SureFire's exacting standards
Compact and lightweight for minimal effect on weapon handling characteristics
Cerakote™ coating maintains look and provides added durability
Not restricted in the USA (not an NFA product)
Durable construction for long service life
Proudly engineered and designed in the U.S.A.
Specifications
Brand: Surefire
Caliber: .223/5.56 up to .30 CAL
Color: Black and Flat Dark Earth
Fit: Surefire SOCOM Muzzle Devices
Manufacturer Part #: WARDEN-BK and WARDEN-DE
Model: Warden
Subcategory: Muzzle Devices
Material: Stainless Steel
Finish: Cerakote™
Weight: 7.8 OZ
Dimensions: 3.5″ L x 1.5″ W x 1.5″ H
Have Questions About this Product?
The AT3 Tactical store has a 90 day no-hassle return policy for products in good condition. You can view the full details of our return policy here.
If you encounter an issue or defect with a product after 90 days of your purchase, you can refer to the manufacturer for a warranty claim. Their policies are below.
SureFire warrants that if you—their customer—purchase one of their products, and they determine that it is defective in material and/or workmanship during your lifetime, they will repair or replace it—no hassle!
Rechargeable batteries and chargers are warranted for two years from the date of purchase.
SureFire warrants EarPro products to be free from defects in workmanship and materials for a period of 90 days from the date of purchase.
Surefire's warranty does not cover consumables or normal wear-and-tear— things like batteries draining, headbands and headpads wearing out, ink cartridges running out, and switches wearing out—or damage resulting from abuse, alterations, unauthorized repairs, or use contrary to SureFire's user manuals.
Should you need a replacement product, SureFire reserves the right to replace an obsolete product with a current production, like model. In the event that any issue with a SureFire product is not covered under this warranty, SureFire can arrange to have the product repaired for a reasonable fee.
STANDARD DISCLAIMER
EXCEPT AS SPECIFIED ABOVE OR PROHIBITED BY APPLICABLE LAW: ALL EXPRESS OR IMPLIED CONDITIONS AND WARRANTIES, INCLUDING, WITHOUT LIMITATION, ANY IMPLIED WARRANTY OR CONDITION OF MERCHANTABILITY OR FITNESS FOR A PARTICULAR PURPOSE, OR ACCURACY OF ANY INFORMATIONAL CONTENT, ARE HEREBY EXCLUDED AND DISCLAIMED BY SUREFIRE; AND IN NO EVENT WILL SUREFIRE BE LIABLE FOR ANY SPECIAL, DIRECT, INDIRECT, CONSEQUENTIAL, INCIDENTAL OR PUNITIVE DAMAGES HOWSOEVER ARISING AND REGARDLESS OF THE THEORY OF LIABILITY, EVEN IF ADVISED OF THE POSSIBILITY OF SUCH DAMAGES. PRODUCTS, PRICES, AVAILABILITY, SPECIFICATIONS, AND OFFERS ARE SUBJECT TO CHANGE OR CANCELLATION AT ANY TIME WITHOUT NOTICE.
WARRANTY CLAIMS
For problems with a SureFire product, or to return a product for repair, replacement or refund, please click here for full information and instructions.