Remington Bore Cleaning rope for .308/.300BLK/7.62 Rifles
Orders will Ship within 1 Business Day
Remington Bore Cleaning rope for .308/.300BLK/7.62 Rifles
This cleaning rope is specifically designed for .308/7.62MM caliber firearms, and it's the perfect tool to help you maintain your gun's accuracy and performance. The Remington Bore Cleaning Rope features bronze bristles that will clean your bore without excessive abrasion. This means that you can use it to clean your gun without worrying about damaging the barrel. Additionally, the weighted end makes it easy to use, allowing you to quickly and efficiently clean your gun with minimal effort.
One of the best things about the Remington Bore Cleaning Rope is its simple pull-through design. This design allows you to quickly and easily clean your gun bore without having to disassemble your gun or use multiple tools. Simply insert the cleaning rope into the barrel, pull it through, and your gun will be clean and ready to use.
Finally, the Remington Bore Cleaning Rope is designed to resist corrosion, making it a long-lasting accessory that you can rely on for years to come. Whether you're a seasoned gun owner or a new shooter, the Remington Bore Cleaning Rope is an essential accessory that you won't want to be without.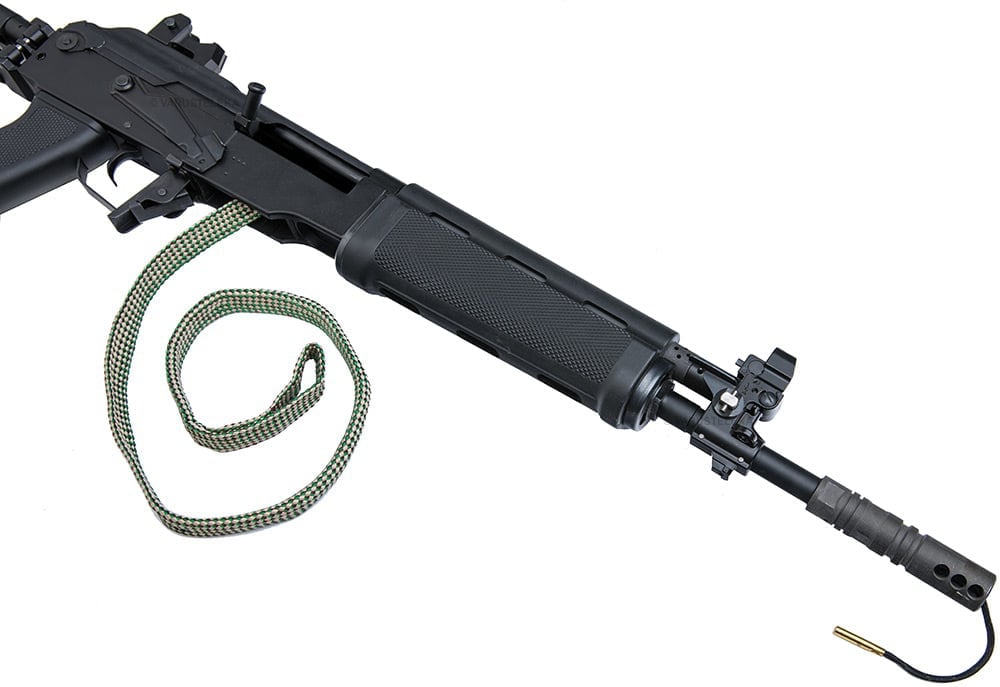 Specifications
Brand: Hoppes
Model: Bore Cleaning rope for .308/.300BLK/7.62 Rifles
MPN: 17757
Caliber: .308/7.62
Material: Bronze and Cotton
Color: Green/Black
Have Questions About this Product?
The AT3 Tactical store has a 90 day no-hassle return policy for products in good condition. You can view the full details of our return policy here.
If you encounter an issue or defect with a product after 90 days of your purchase, you can refer to the manufacturer for a warranty claim. Their policies are below.
Remington Limited Lifetime Warranty
Remington Arms Company, LLC warrants to the original purchaser of a new firearm from Remington that such firearm shall be free from defects in material and workmanship for the duration of time that the Purchaser originally owns that firearm.
Remington, in its sole discretion, shall repair or replace the firearm if the Purchaser submits a valid warranty claim in accordance with these instructions.
If Remington opts to replace the firearm, Remington will keep the firearm that it replaces.
The Purchaser's remedies under this warranty are limited to repair or replacement of the firearm; Remington will not provide cash, credit, or refund.
For the avoidance of doubt, this warranty does not apply to or cover any defects associated with any on-gun, or off-gun, part or accessory that Remington includes with your firearm that:
Capable of being readily detached and, or, replaced
Bears the name of a brand other than Remington
Includes any glass or electronic component.
Remington does not warrant against any type of defect to the firearm that Remington did not cause, including but not limited to damage or defects arising out of:
Failure to provide proper care and maintenance,
Accidents, abuse, or misuse
Barrel obstruction
Hand loaded, reloaded, or improper ammunition
Unauthorized adjustments, repairs, or modifications, or
Normal wear and tear.
Contact Details:
Address: Remington Arms Company, LLC 870 Remington Drive Madison, North Carolina 27025
Telephone: 800-243-9700
Fax: 336-548-7801

Disclaimer: Manufacturer's warranty is subject to change without prior notice.