Geissele Automatics Super Precision Absolute Co-witness Mount for Trijicon MRO
Orders will Ship within 1 Business Day
TOP ADD-ON'S
AT3™ RCO™ Red Dot Sight with Circle Dot Reticle and Variable Riser Mounts
Geissele Automatics Super Precision Absolute Co-witness Mount for Trijicon MRO
The Super Precision MRO Series is a top-of-the-line mounting option for the Trijicon MRO, AT3 RCO, and similar red dot optics. What sets this mount apart from others in its class is its precision machined construction from a single piece of 7075-T6 high-strength aluminum. This manufacturing process ensures that the mount is incredibly strong and durable, making it an excellent choice for even the most demanding applications.
With Geissele's update of the classic nut and bolt method, this mount provides an unbeatable 1,400 pounds of clamping force to keep your red dot securely attached to your weapon. Plus, the mount features 3 shear lugs for maximum rigidity and return to zero, ensuring that your optic stays on target no matter what.
The Super Precision MRO Series is an outstanding choice for anyone looking for a high-quality, reliable mounting solution for their red dot optic. Whether you're a professional shooter, a competitive sportsman, or just someone who demands the best from their gear, this mount is sure to deliver the performance you need.
Compatibility
Trijicon MRO, MRO-HD, and MRO Patrol
AT3 RCO
Burris RT-1X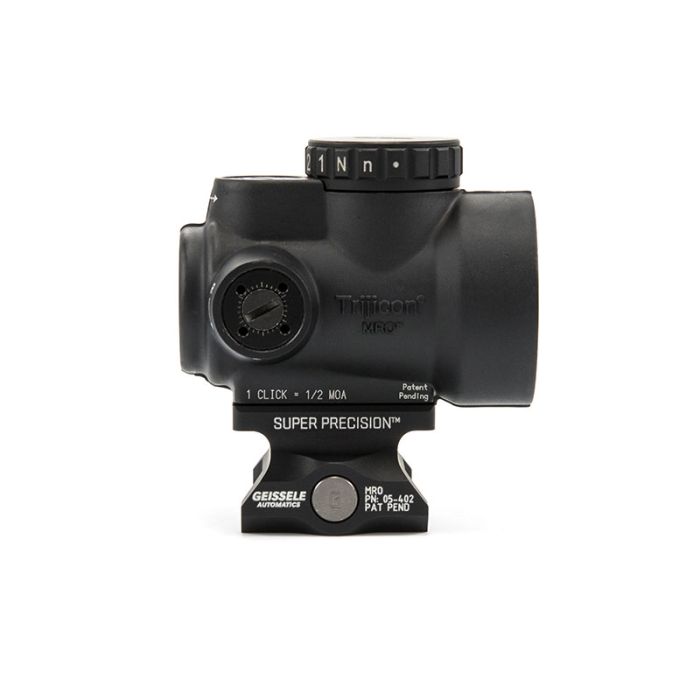 Specifications
Brand: Geissele Automatics
Model: Super Precision Absolute Co-witness Mount for Trijicon MRO
MPN: 05-402B
Color: Black
Fit: Trijicon MRO
Type: Mount
Weight: 2 oz
Material: 7075-T6 Aluminum
Finish: Type-3 Hardcoat Anodize
Have Questions About this Product?
The AT3 Tactical store has a 90 day no-hassle return policy for products in good condition. You can view the full details of our return policy here.
If you encounter an issue or defect with a product after 90 days of your purchase, you can refer to the manufacturer for a warranty claim. Their policies are below.
Geissele Limited Lifetime Warranty
Geissele Automatics warrants its firearms, components, and tools against defects in materials and workmanship during the lifetime of the product.
Geissele Automatics does not warrant against normal wear and tear, items consumed or expended by their normal use (including springs, pins, etc.), product misuse (including criminal misuse, negligence or use under the influence of drugs or alcohol), accidental damage, or damage caused by improper handling, unapproved modifications to the product, defective or improper ammunition, or corrosion.
Defective accessories (e.g., scopes, suppressors, flash hiders, sights, slings, parts with glass or electronic components, etc.) may be warranted by their original manufacturers but are not covered by this warranty.
If you submit a valid claim under this Limited Lifetime Warranty, Geissele Automatics will authorize your return of the product and, at its sole discretion, will:
Repair the product, including replacement of defective parts with new or refurbished parts
Replace the product with a product of equal or greater value.
If Geissele Automatics decides to replace a product under this warranty, Geissele will keep the product being replaced.
You must satisfy all terms and restrictions set forth in this Limited Lifetime Warranty and obtain a Return Material Authorization before shipping any product to Geissele Automatics.
Before shipping any product to Geissele Automatics, please ensure the following:
The product has not been modified, is clean and any accessories have been removed (unless otherwise instructed by a Geissele Automatics technical support agent)
There is no ammunition in any product or packaging
The completed Return Material Authorization form has been placed inside the packaging
The Return Material Authorization number has been clearly written on the outside of the packaging.
Any failure to follow these instructions could result in your package being refused and returned to you without repairs at your expense.
To obtain service, contact Geissele Automatics at sales@geissele.com or 610-272-2060.
Disclaimer: Manufacturer's warranty is subject to change without prior notice.