Orders will Ship within 1 Business Day
Troy AR-15 Enhanced Trigger Guard
The Troy Industries Enhanced Trigger Guard is a fantastic upgrade for any AR15. This trigger guard is designed to allow shooters to easily access the trigger even while wearing thick gloves, making it the perfect addition for cold weather or tactical shooting situations.
In addition to its glove-friendly design, the guard also fills the width gap between the pistol grip and trigger guard on receivers. This feature not only improves the overall comfort and safety of using a firearm but also enhances the overall aesthetics of the weapon.
Made of aluminum with hard-coat anodizing, the Troy Industries enhanced trigger guard is both aesthetic and durable. The Troy Industries enhanced trigger guard is an excellent investment for anyone looking to improve the comfort, safety, and style of their firearm.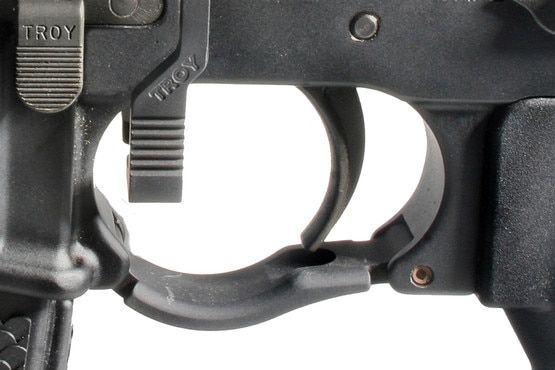 Features
Fills width gap on receivers
No sharp edges or corners
Flat Black
Made in the USA
Specifications
Brand: Troy
Model: Enhanced Trigger Guard
MPN: SGUA-AMB-00BT-00
Fit: AR-15
Material: Aluminum
Finish: Anodized
Made in USA
Have Questions About this Product?
The AT3 Tactical store has a 90 day no-hassle return policy for products in good condition. You can view the full details of our return policy here.
If you encounter an issue or defect with a product after 90 days of your purchase, you can refer to the manufacturer for a warranty claim. Their policies are below.
Troy Warranty
If your product is in need of warranty service, please contact Troy for more information to start the process.
Return Warranty of Defective Products:
All Troy products are manufactured in the USA using the finest quality materials.
All Troy products are warranted against defects in material and workmanship.
Troy will repair or replace a defective product (or part/component).
This warranty is limited to repair or replacement of the defective product, part, or component.
Troy will determine in its sole and exclusive discretion whether to repair or replace a product, part, or component.
Troy also reserves the right to determine the means and materials by which such repair or replacement will be made.
All defective product returns must be pre-authorized by Troy customer service and be accompanied by an RMA Number.
You must contact customer service to receive an RMA Number prior to returning any product.
You must have your original purchase paperwork, including your receipt or other proof of purchase, and be willing to provide these documents to Troy.
This warranty and return of defective goods policy applies to all purchasers, including but not limited to dealers, distributors, and retail customers.
Disclaimer: Manufacturer's warranty is subject to change without prior notice.
Troy trigger guard
Can't beat a Troy have this on another ar and fits perfect