STNGR VLCN® M-LOK Free Float AR-15 Handguard
Click Here for Price
$189.99
Orders will Ship within 1 Business Day
In-Stock and Ready to Ship
STNGR VLCN M-LOK Handguards
---
Based on 5-star reviews alone, no other handguard comes close. But reviews don't tell the whole story. USA Made with a rugged design, rock solid locking mechanism and incredibly simple installation, there's a reason why STNGR handguards are regularly trusted by Police, SWAT, competition shooters, shooting instructors, home defenders and tens-of-thousands of STNGR customers.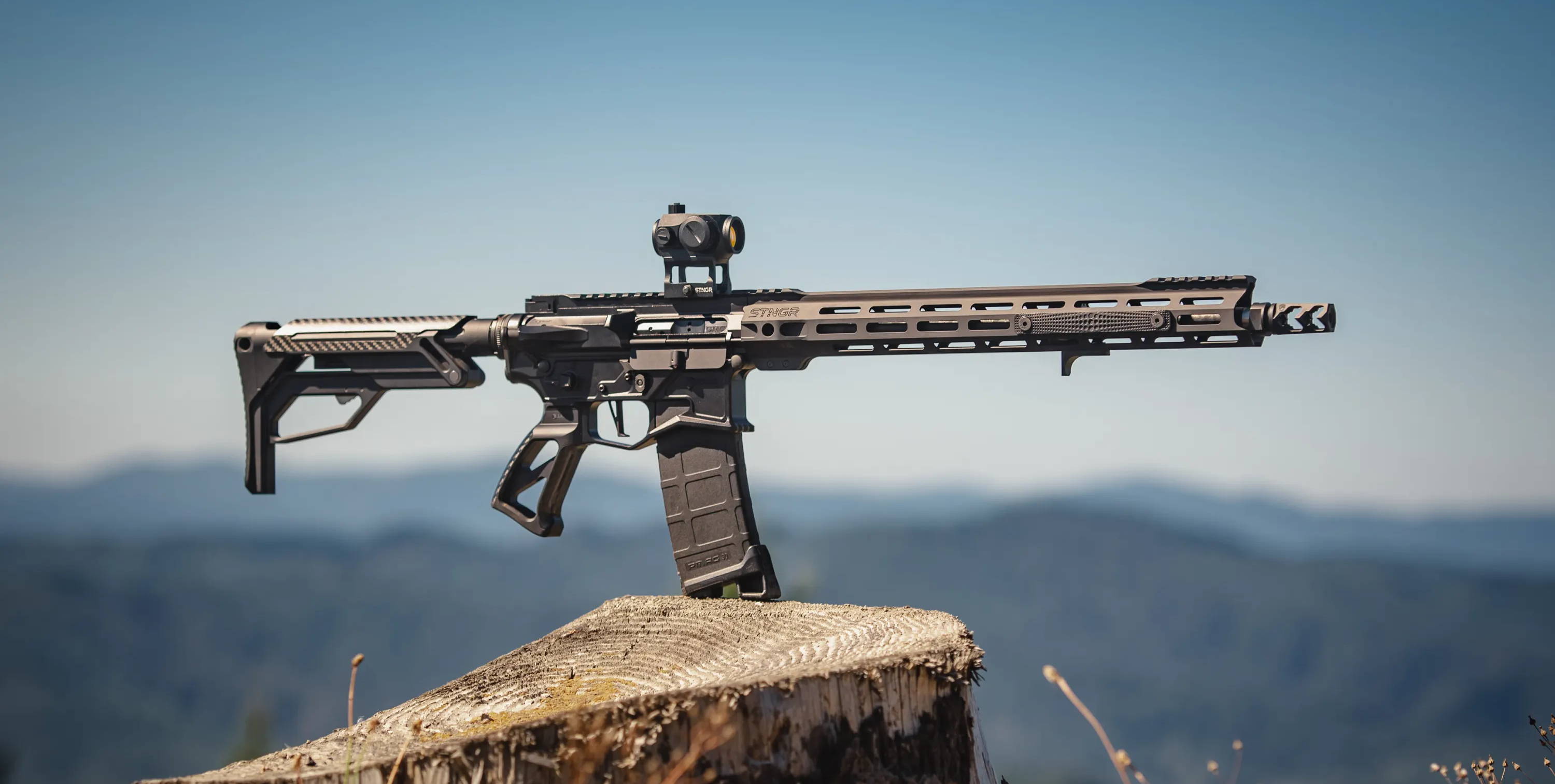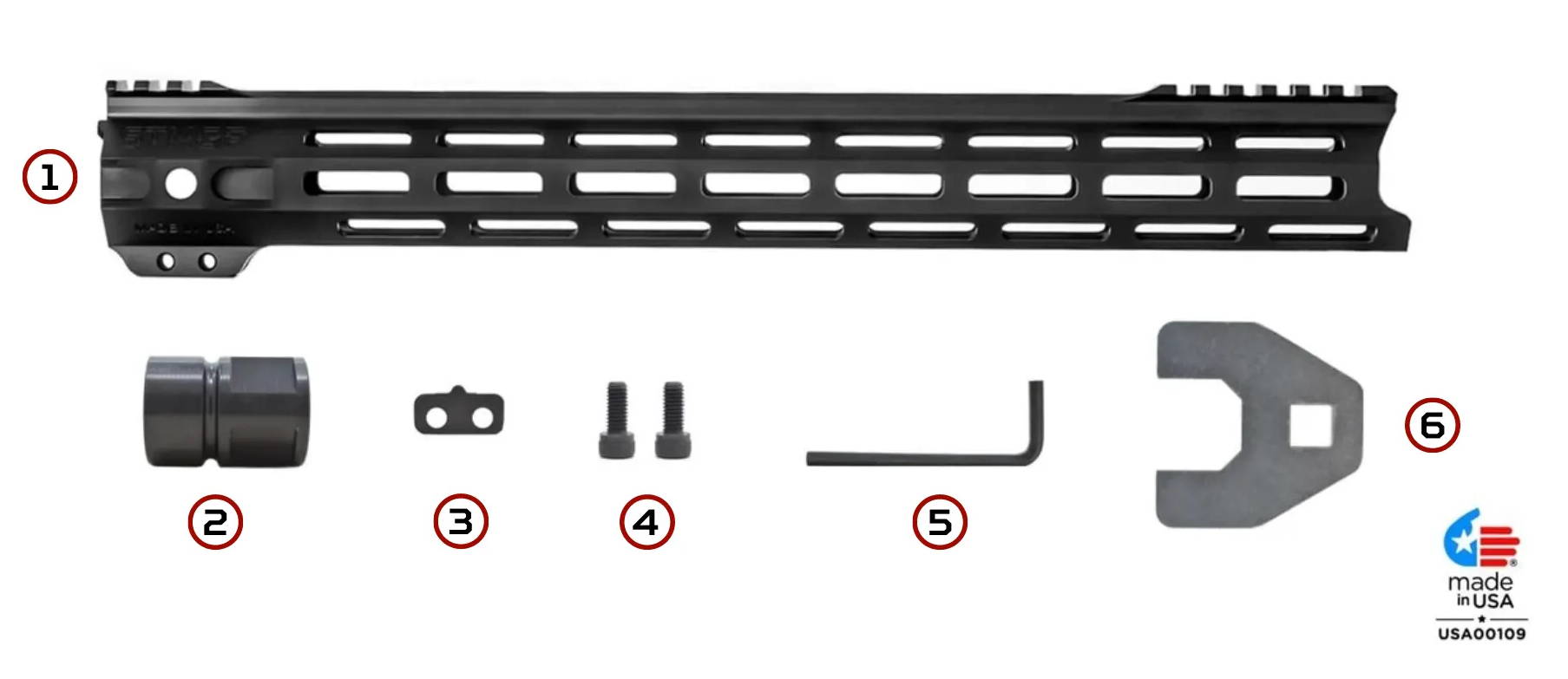 | | |
| --- | --- |
| | |
| 1) VLCN Free Float Handguard (15.5″) | |
| | |
| 3) Proprietary Anti-Slide Plate | 6) 1 3/16″ Crowfoot Wrench (1/2″ Drive) |
INCREDIBLY SIMPLE INSTALLATION
---
The VLCN, with its simple non-timing barrel nut, was engineered to be the easiest handguard to install on the market.
Perfect for first time builders and seasoned gunsmiths alike. No hassle, no frustration, no previous experience required. Simple.
Check out the installation guide here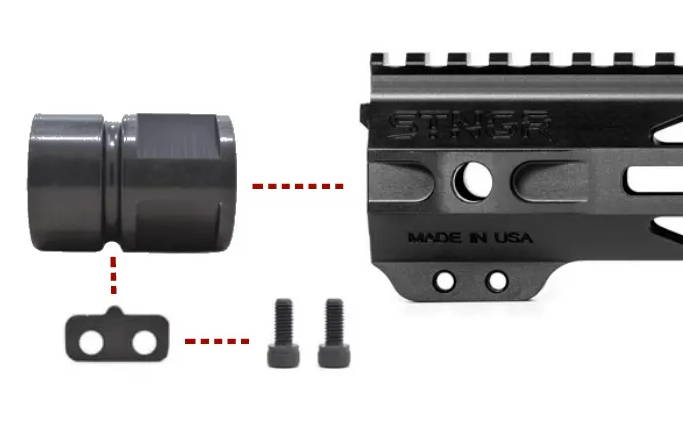 ---
The VLCN solves a problem that plagues most rails on the market – handguard sliding.
With our proprietary anti-slide plate that interfaces with a groove in the barrel nut, the VLCN is locked to the upper – ensuring that it won't go anywhere.
---
Forward sliding is a problem that's solved with the anti-slide plate, but what about lateral rotation?
The VLCN has built in anti-rotation tabs to prevent any kind of rotation.
By combining the anti-slide plate and anti-rotation tabs, the result is a rock solid fit – no matter how hard you run it.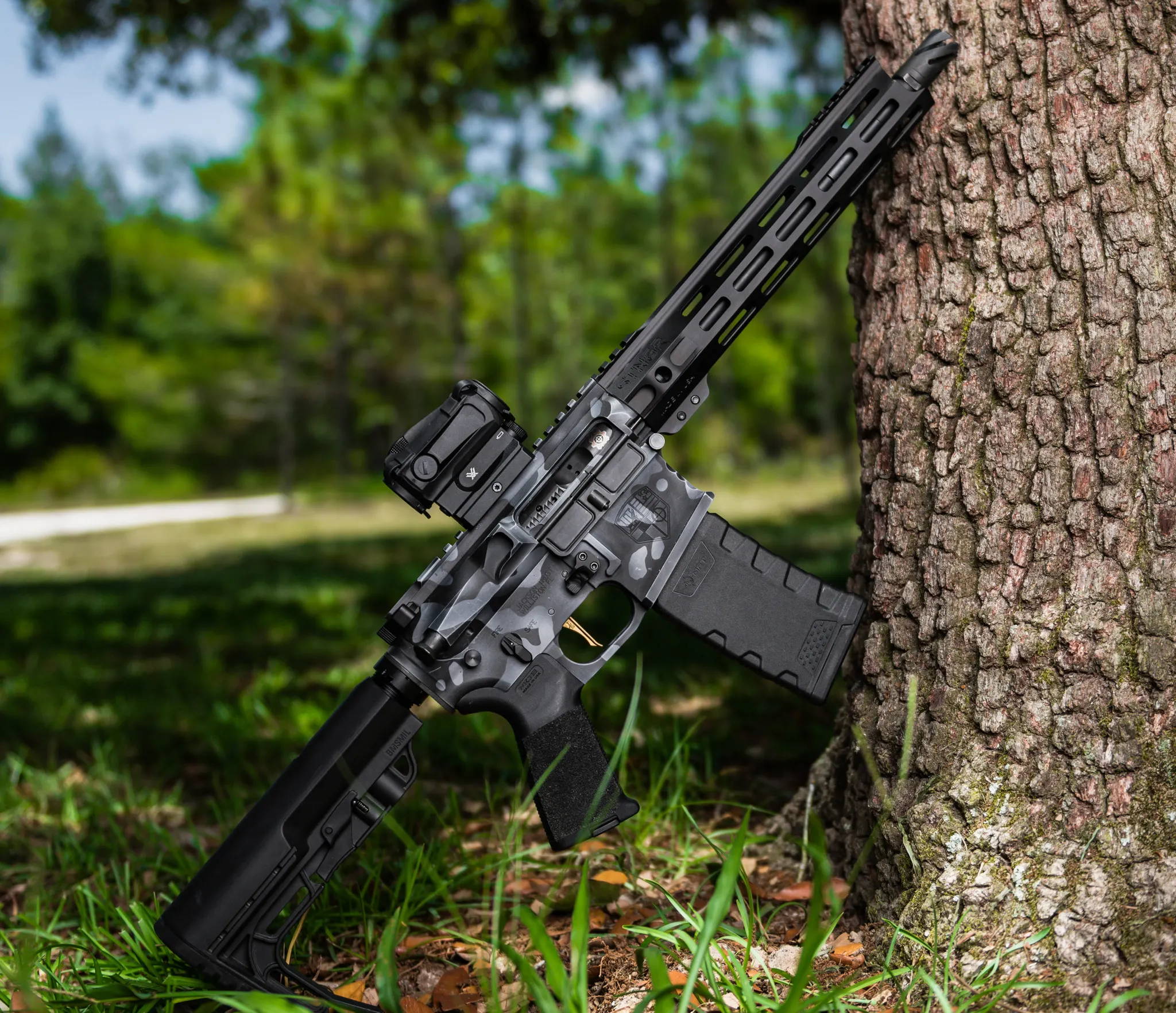 LIGHTWEIGHT, INCREASED VENTILATION
---
Aggressive machining cuts throughout the rail serve 3 critical functions:
    1) Significantly slash excess weight
    2) Increase ventilation to cool both your handguard and barrel
    3) Steep angles prevent fingers from sliding into grooves
Specifications
Handguard Material: 6061-T6 Aluminum
Barrel Nut Material: Steel
Handguard Weight

15 Inch: 10.33 Ounces
12.5 Inch: 8.71 Ounces
10.5 Inch: 7.47 Ounces

Barrel Nut Weight: 3.49 Ounces
Inside Diameter (ID): 1.35″
ID of Top Gas Tube Channel: 1.70″
Compatibility: For use on AR-15 & M4 variants (223, 300blk & 556) *Modification is required to fit with billet uppers.
Finish: Either type III hard coat anodized black or Magpul FDE Cerakote
---
STNGR proudly stand behind their products with the SWARM Lifetime Warranty. If you have any issues happen that aren't caused by normal use, they'll send you a replacement – for free. It's that simple.
Read the full warranty here.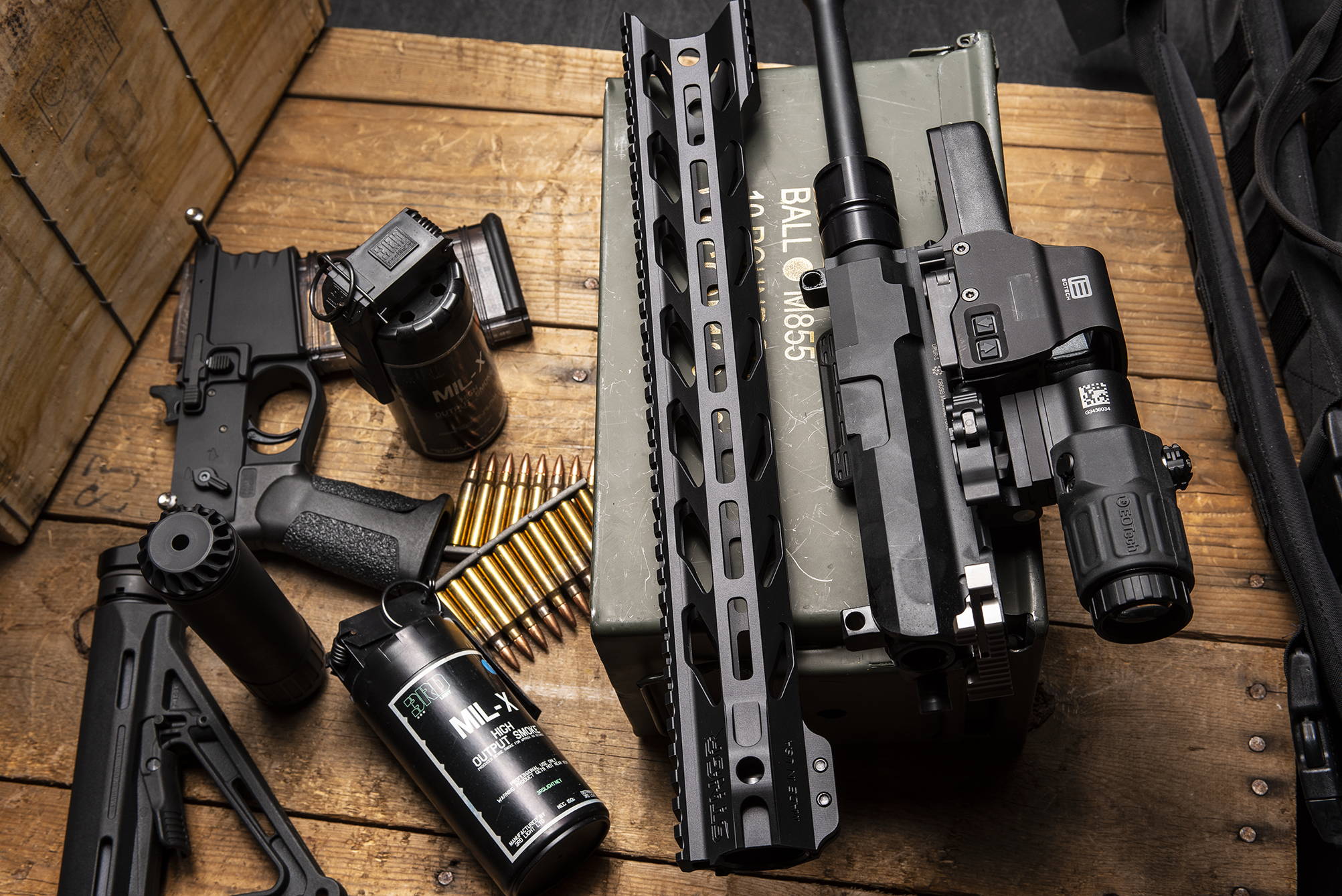 WHAT'S NEEDED FOR INSTALL?
---
In addition to the included tools, you will need a low profile gas block if you don't have one already. Most other brands will work and we also carry one here that is guaranteed to work with the VLCN.
Lastly, here is a checklist you can use to see what other installation tools you may need. Get the checklist here.
Have Questions About this Product?
The AT3 Tactical store has a 90 day no-hassle return policy for products in good condition. You can view the full details of our return policy here.
If you encounter an issue or defect with a product after 90 days of your purchase, you can refer to the manufacturer for a warranty claim. Their policies are below.
SWARM Warranty
STNGR USA products are warranted to the *original purchaser against any defects in materials and workmanship for the lifetime of the product. STNGR USA has sole discretion to determine manufacturer's defects. The Swarm Warranty policy does not cover loss or theft. Cosmetic damage or changes that leave the product still in a functional condition, damage from improper use or intentional damages are also not covered by the warranty and will not be accepted. Items that have been modified or in any way altered from the original condition are not covered by the Swarm Warranty.
Eyewear lenses are fully covered by a 1 year scratch warranty. If you scratch or damage your lenses within 1 year of purchasing, STNGR will send you up to 1 pair of replacement lenses. This warranty only applies to the original purchase and not subsequent replacements. You also qualify for **20% off replacement lenses for life. Email support@stngrusa.com to receive your discount code.
Eyewear Lost & Broken Replacement Discount
Sometimes life happens. If you ever break or lose your sunglasses, no matter the reason, you're covered with a hefty discount. Shoot STNGR an email at support@stngrusa.com and you'll get you hooked up with an exclusive 30% discount on future replacements.
---
*The original purchaser may have purchased from any of the following sources: Directly from STNGR (stngrusa.com or stngredge.com) or from an authorized dealer, distributor, or retailer. The original purchaser may be asked to show proof of purchase.
**The 20% discount is subject to replacement lens availability.