STNGR 16″ .223 Wylde Complete Upper Receiver w/ 15″ HWK® Handguard, BCG & CH
Orders will Ship within 1 Business Day
In-Stock and Ready to Ship
STNGR Complete .223 Wylde Upper with HWK Handguard
Introducing the new STNGR Complete Upper. As the name suggests, it comes complete with all the parts needed to have you sending lead down range sooner. Perfect for those who want to save time with a truly plug-and-play solution.
This complete upper uses a hybrid 223 Wylde barrel with 1:8 twist, performance Bolt Carrier Group (BCG), billet upper, mid-length gas system and is compatible with all mil-spec lowers. All parts are made, assembled and test fired in the USA and backed by the legendary lifetime SWARM Warranty.
Shop the new complete upper and join the SWARM!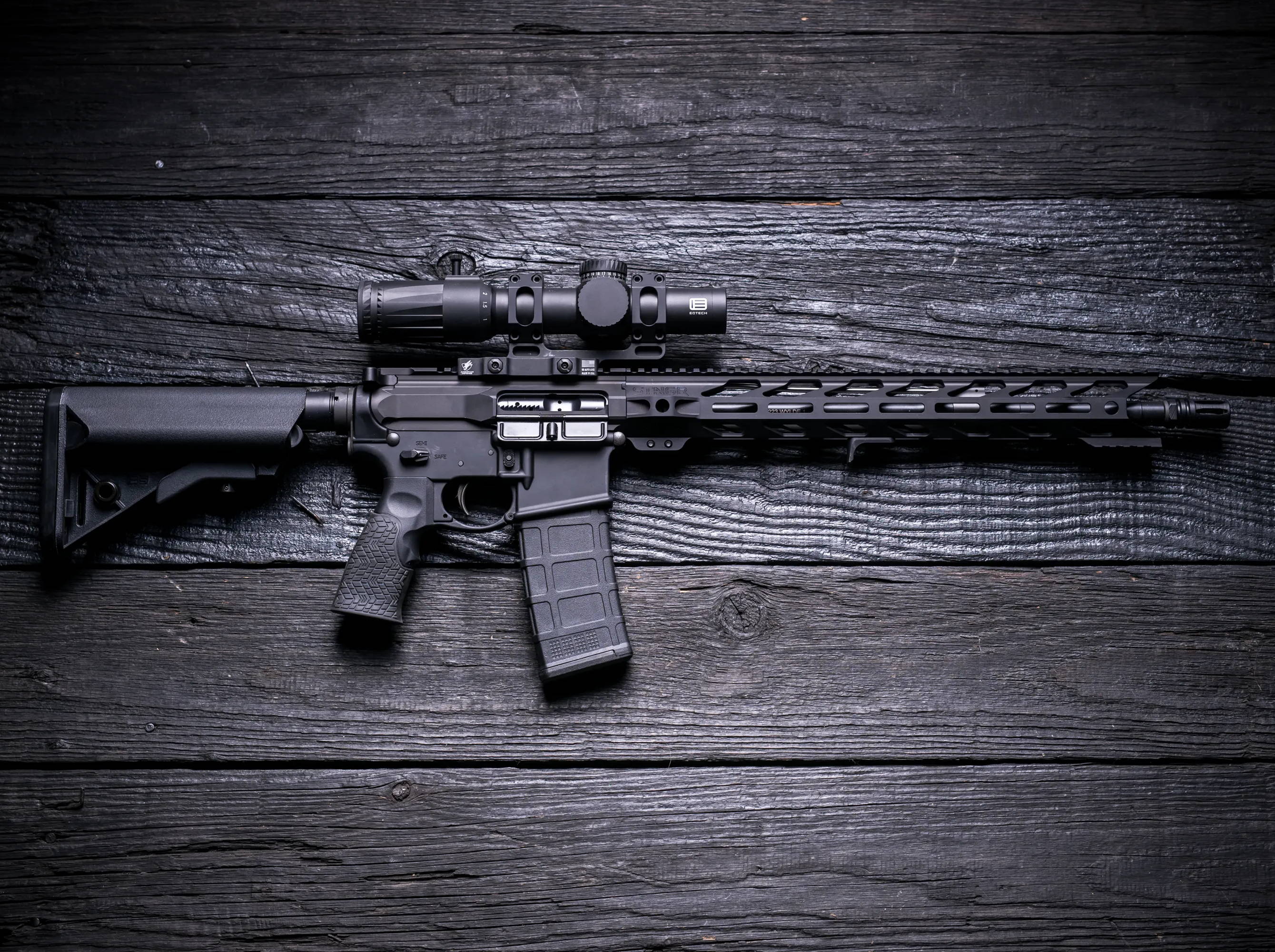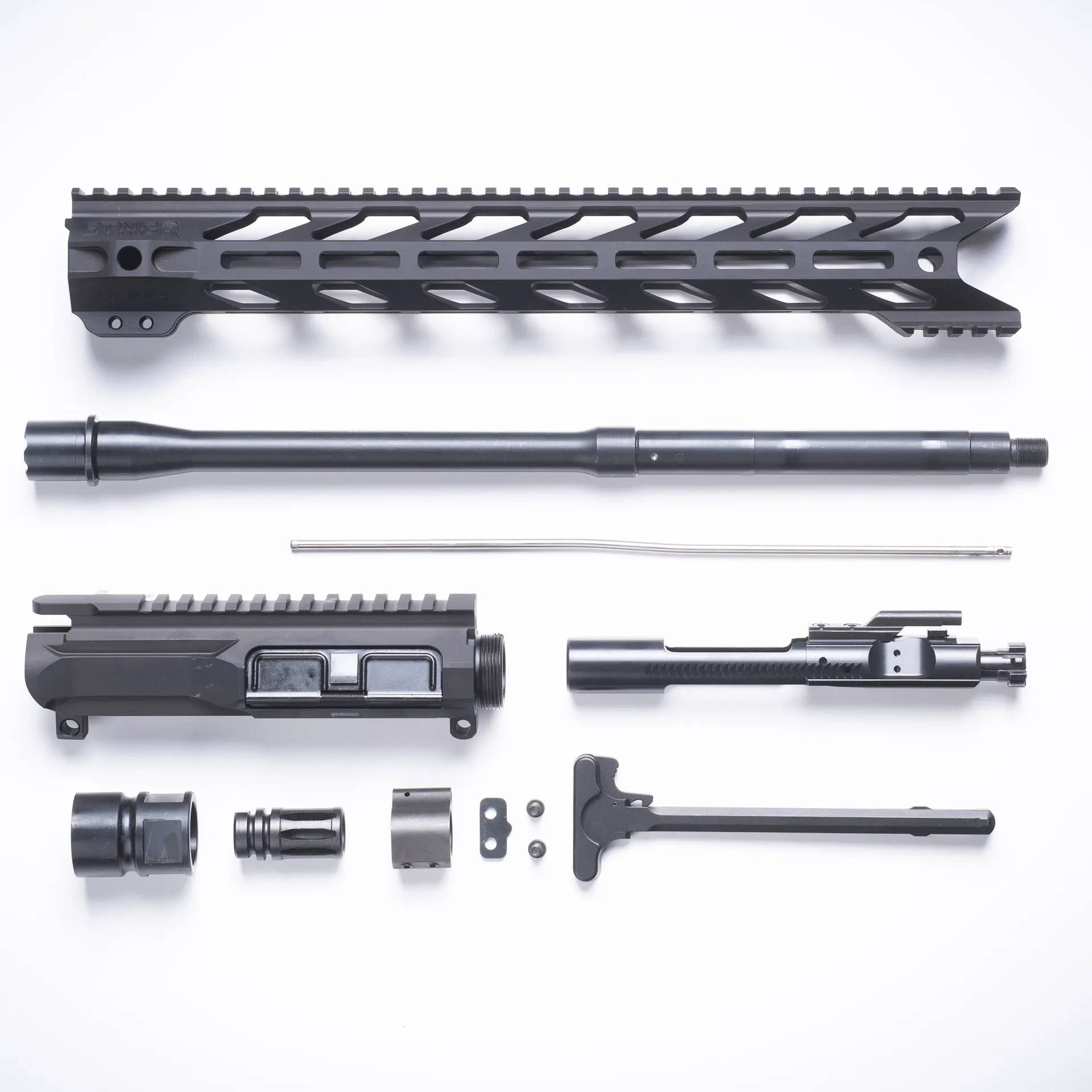 Billet Upper Receiver
16″ Barrel – 223 Wylde, 1:8 Twist (223 Wylde is a hybrid chamber optimized for 5.56 NATO & 223 Rem rounds
STNGR HWK 15″ M-Lok Free Float Handguard in anodized black
AR15 Charging Handle – Forged
Black Nitride M16 Bolt Carrier Group (BCG)

9310 Alloy Steel Bolt – Case Hardened, Shot Peened, MPI
8620 Alloy Steel Carrier
Billet Steel Extractor

Low Profile Gas Block .750″, Set Screw, Steel – Nitride Finish
AR15 Gas Tube – Mid-Length
Flash Hider- A2, Crush Washer
Pin, Hinge, Dust Cover, Ejection Port, Spring
Barrel Material: 4150 alloy steel with a Black Nitride finish
All parts are made in the USA. STNGR Complete Uppers are assembled by hand and test fired.
When the phrase "plug-and-play" was invented, they had the STNGR complete upper in mind. Just drop your upper into your lower, install an optic, and you're good to go.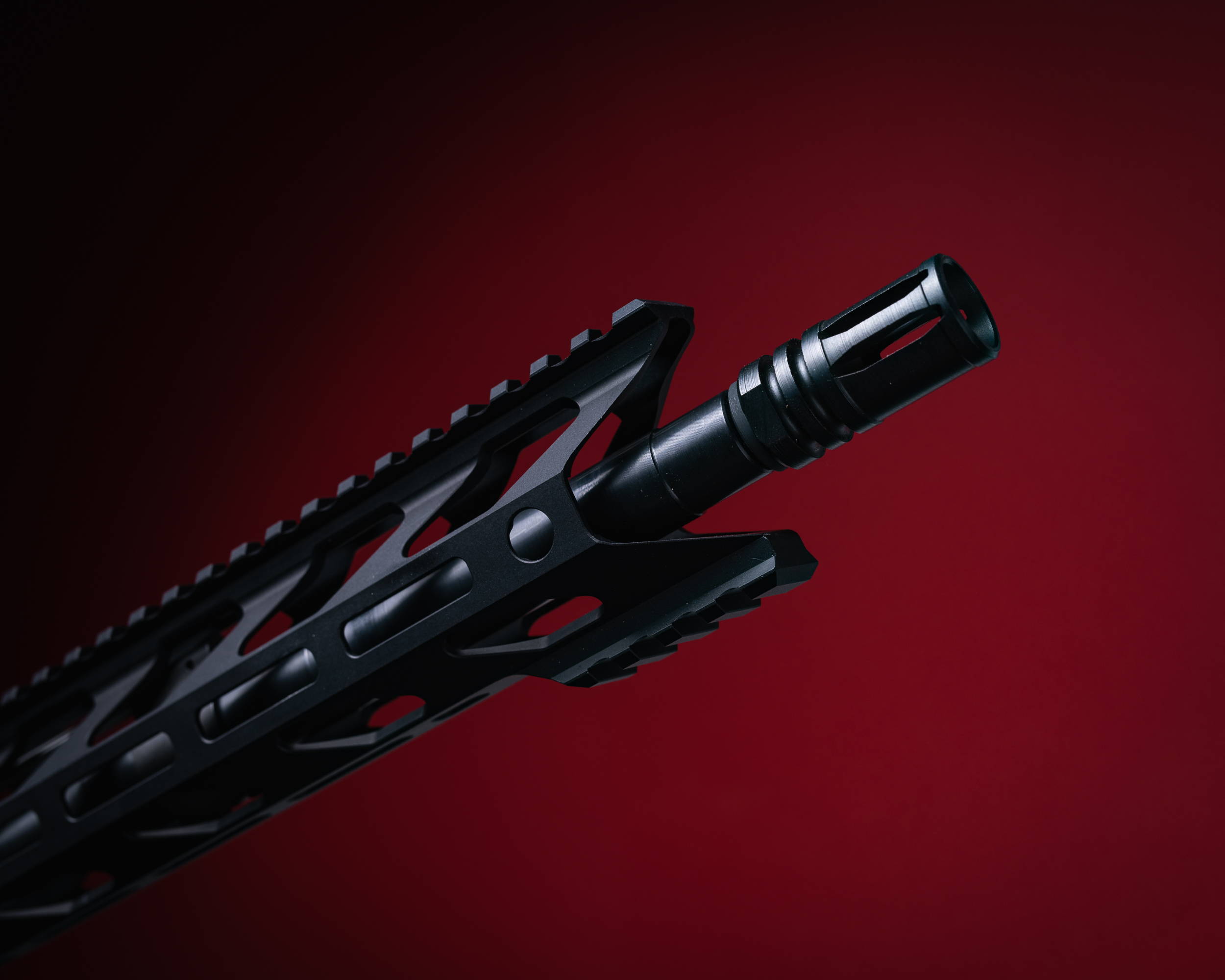 The 223 Wylde hybrid chamber allows you to safely shoot both 5.56 NATO and .223 Remington caliber ammunition.
Made in the same facility as other top brands, this barrel is built to outshoot other premium barrels on the market. Engineered from 4150 gun barrel steel and Black Nitride treated to ensure corrosion resistant performance through thousands of rounds. Upgrade your AR-15 and enjoy superior accuracy and reliability with every shot.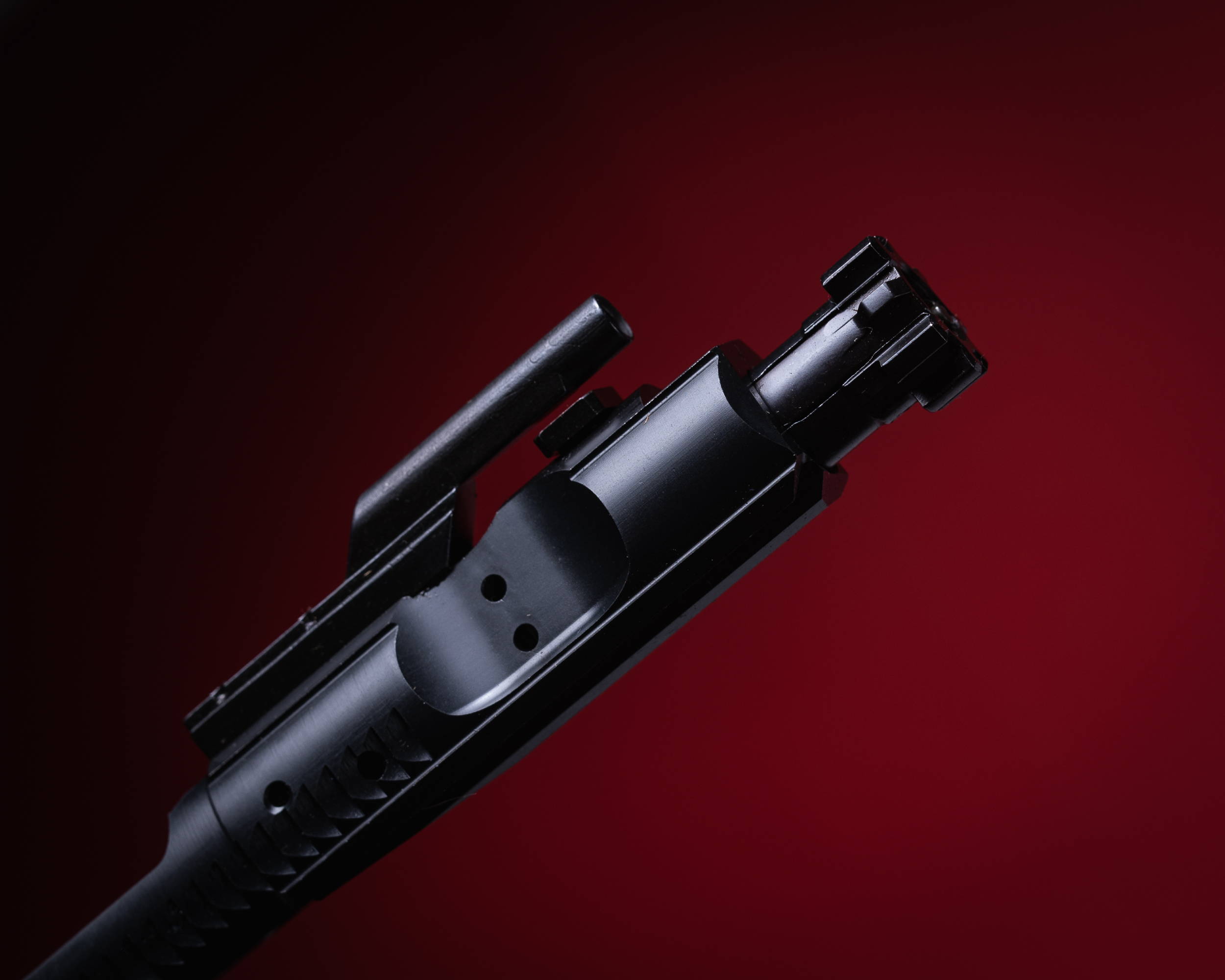 BCG + CHARGING HANDLE INCLUDED
When we say "complete upper", we really mean it. Everything you need is included – and that means a high performance Bolt Carrier Group (BCG) and charging handle too – for free.
But what does "high performance BCG" even mean?
Simple. A feature packed Bolt Carrier Group designed from the ground up to increase reliability and durability of your rifle.
The 8620 alloy steel, case hardened, black nitride finished Carrier paired with a 9310 alloy steel, case hardened, shot peened, MPI, black nitride finished Bolt makes for a BCG that will cycle flawlessly for years under the gnarliest conditions.
Reliability when you need it.
The HWK handguard has built in anti-rotation tabs to prevent any kind of rotation.
These tabs integrate perfectly with our billet upper. Like peanut butter and jelly it's a match made in heaven.
Specifications
Fit: AR-15
Caliber: .223 WYLDE (.223 REM and 5.56 NATO)
Barrel Length: 16″
Gas System: Midlength
Handguard Length: 15″
Overall Weight: 4.28 lbs
Finish: Type III hardcoat anodized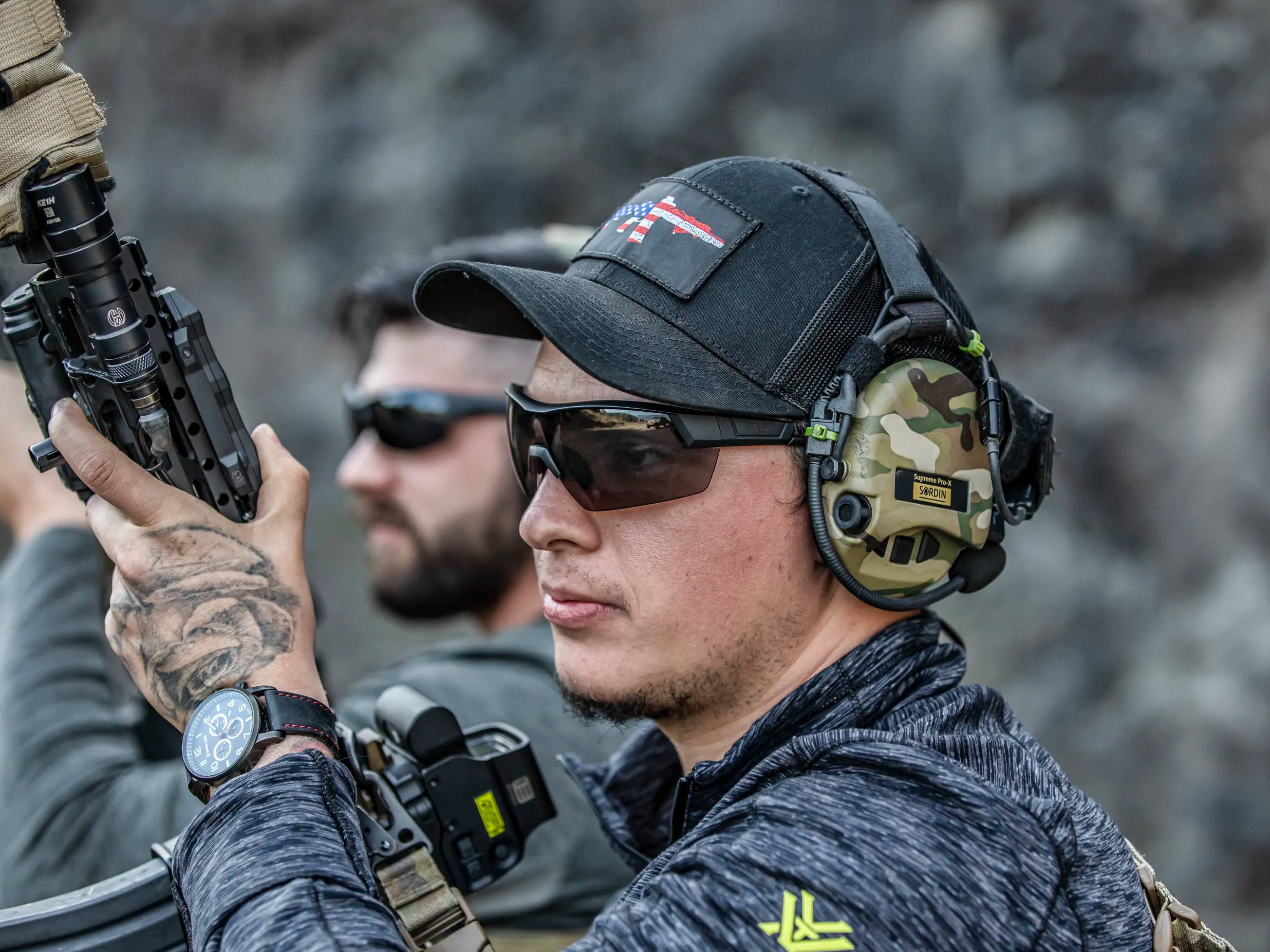 STNGR proudly stands behind their products with the SWARM Lifetime Warranty. If you have any issues happen that aren't caused by normal use, they'll send you a replacement – for free. It's that simple. You also get free returns and exchanges for 60 days.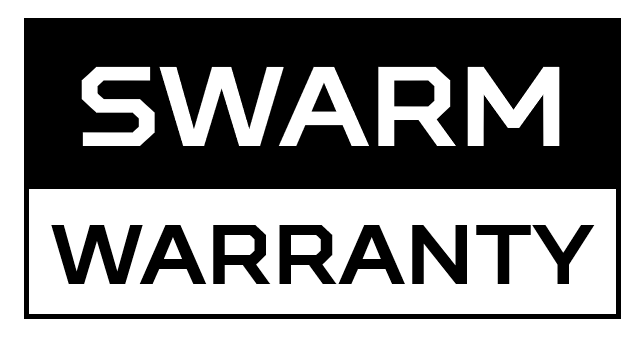 Read the full warranty here.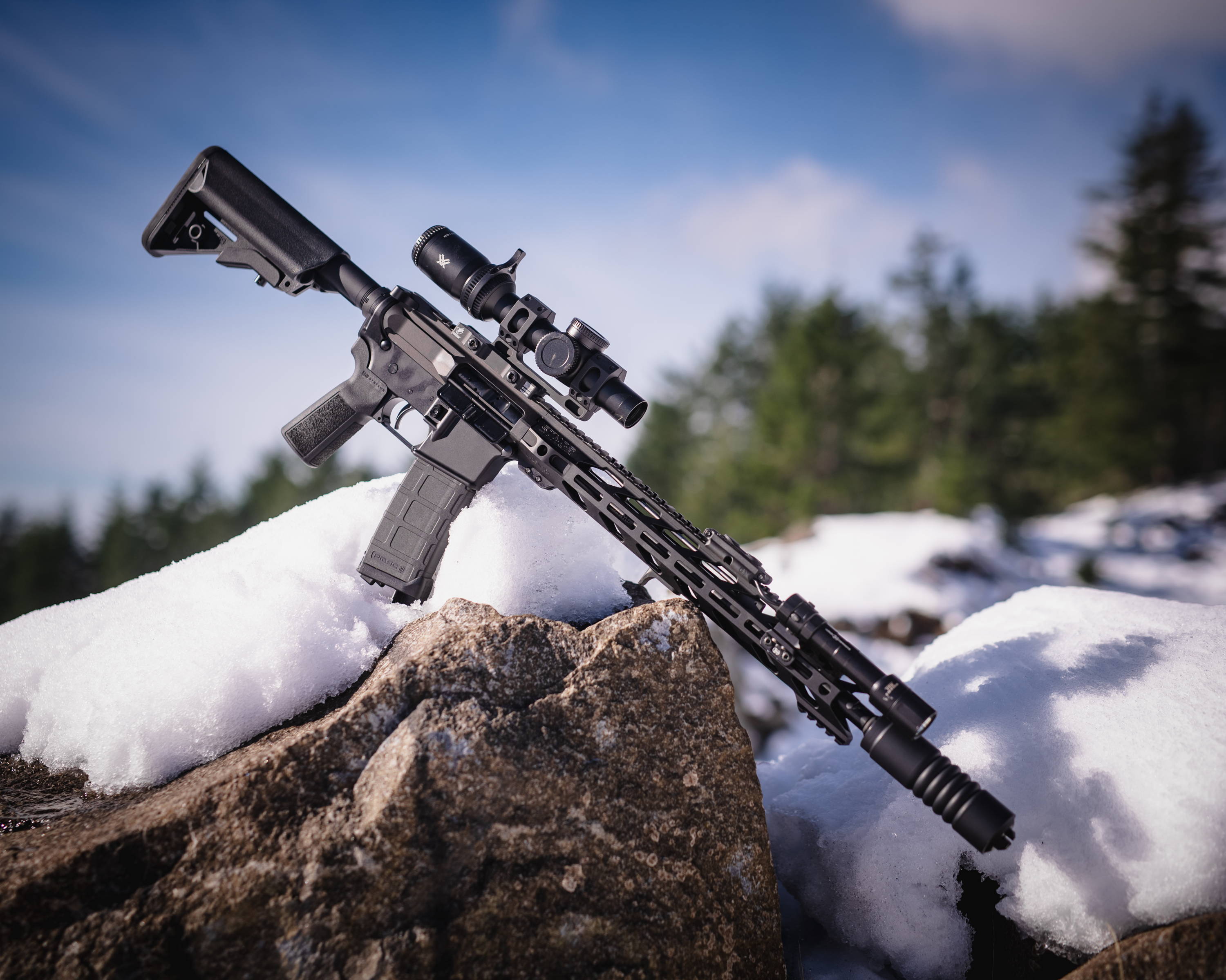 Have Questions About this Product?
The AT3 Tactical store has a 90 day no-hassle return policy for products in good condition. You can view the full details of our return policy here.
If you encounter an issue or defect with a product after 90 days of your purchase, you can refer to the manufacturer for a warranty claim. Their policies are below.
SWARM Warranty
STNGR USA products are warranted to the *original purchaser against any defects in materials and workmanship for the lifetime of the product. STNGR USA has sole discretion to determine manufacturer's defects. The Swarm Warranty policy does not cover loss or theft. Cosmetic damage or changes that leave the product still in a functional condition, damage from improper use or intentional damages are also not covered by the warranty and will not be accepted. Items that have been modified or in any way altered from the original condition are not covered by the Swarm Warranty.
Eyewear lenses are fully covered by a 1 year scratch warranty. If you scratch or damage your lenses within 1 year of purchasing, STNGR will send you up to 1 pair of replacement lenses. This warranty only applies to the original purchase and not subsequent replacements. You also qualify for **20% off replacement lenses for life. Email support@stngrusa.com to receive your discount code.
Eyewear Lost & Broken Replacement Discount
Sometimes life happens. If you ever break or lose your sunglasses, no matter the reason, you're covered with a hefty discount. Shoot STNGR an email at support@stngrusa.com and you'll get you hooked up with an exclusive 30% discount on future replacements.
---
*The original purchaser may have purchased from any of the following sources: Directly from STNGR (stngrusa.com or stngredge.com) or from an authorized dealer, distributor, or retailer. The original purchaser may be asked to show proof of purchase.
**The 20% discount is subject to replacement lens availability.